Tal Mofkadi, Ph.D.
Advisory board member
---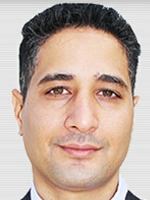 Dr. Mofkadi teaches finance and capital budgeting in Tel-Aviv University, The Interdisciplinary Center Herzliya, and was a visiting assistant professor of finance at Kellogg School of Management (Northwestern University). He teaches financial modelling (financial decision processes modelled with Microsoft Excel) in business schools abroad (University of Amsterdam, Nagoya University of Business and Commerce, Tallinn University of Technology and Copenhagen Business School) and in Tel-Aviv University.
He is the co-author of a corporate valuation textbook in Hebrew "The Handbook of Corporate Valuations" (see www.valuation.co.il) and an English textbook in finance "Principle of Finance with Excel" 3rd edition (Oxford University Press USA, Higher Education Group). On the practical side, as the Managing Partner at Numerics Economic & Financial Consulting Ltd. (www.numerics.co.il), Tal has made many valuations of projects and companies, and due-diligent of project to firms. Before becoming a consultant, he held a position in Perrigo pharmaceuticals (formally known as Agis) for 6 years, leading the economic analysis process of R&D projects prioritization, quantifying risks, CAPEX investments, optimal manufacturing locations, acquisition of companies and more. When working for Perrigo, he took a key role in the merger of Agis and Perrigo and also lectured to the Boston Consulting Group on how to model, unify, and execute R&D projects from OTC, Generics and Novelty pharmaceutical.
Numerics provides its clients comprehensive solutions to problems interdisciplinary expertise needs in the fields of Economics, Finance and Accounting. The company is unique in the academic depth and practical experience provided by its partners and affiliates, who are some of the country's leading experts in these areas. Its partners – Dr. Tal Mofkadi and Dr. Roy Shalem – are senior economic and financial experts with extensive experience in performing many dozens of projects.